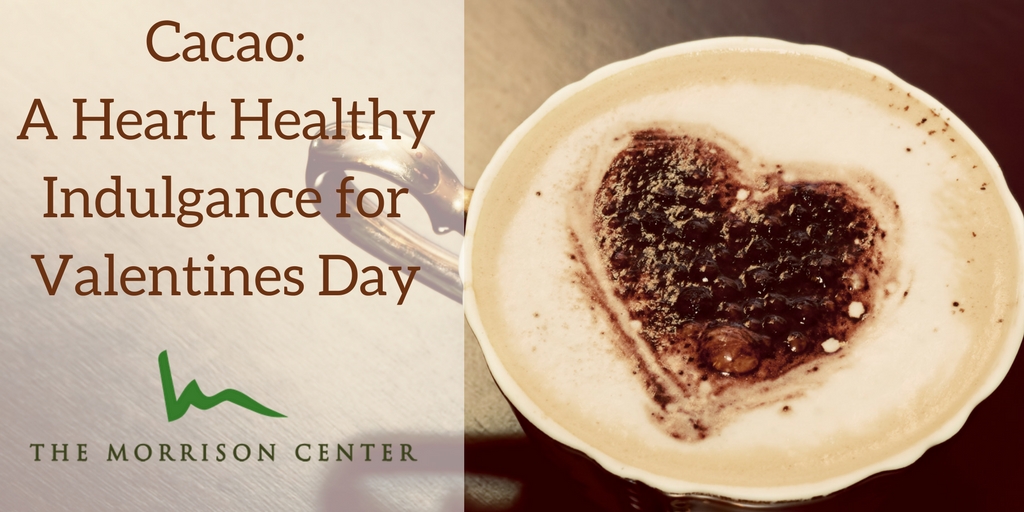 All hail the cacao bean, giver of chocolatey goodness and heart health benefits!
Did you know that cacao, cocoa and chocolate all come from the cacao bean? Cacao (as in nibs and cacao powder) is raw and unprocessed, while chocolate and cocoa powder are made with fermented and heat processed cacao powder. No matter which you choose, both cocoa and cacao have some surprising health benefits that are sure to win your heart. Here are our top 5, just in time for Valentine's Day:
Cocoa antioxidants have been found to:
To gain the maximum health benefits of chocolate without the pitfalls of added sugar, we recommend using raw unsweetened cacao powder. You can…
Make a healthy sugar-free hot chocolate with a cup of unsweetened almond milk, two teaspoons raw unsweetened cacao powder, a capful of vanilla extract, a pinch of sea salt, and liquid stevia to taste. Combine all ingredients in a saucepan and heat to a boil, let cool and enjoy!
Add it to shakes and smoothies — like this Chocolate Mint Daily Benefit

®

Detox Smoothie recipe
Feeling extra creative? Surprise your valentine with these homemade chocolate coconut oil "truffles"
Grab a healthy bar made with raw cacao.
Want more tips and tricks to make your daily meals more nutritious and enjoyable?
Our nutritionists can show you how to get the most benefit and enjoyment of out your meals while working toward your health goals. Contact us at 212-989-9828 or manager@morrisonhealth.com to find out more about opportunities for one-on-one nutrition support.