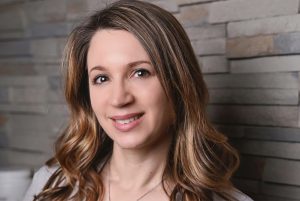 Melissa joined the TMC team in 2022, bringing her passion for nutrition, nutritional supplementation, and dedicated customer service to the role of Daily Benefit Supplement Manager. Her enthusiasm for supplements and her commitment to serving TMC patients have earned her recognition as a TMC role model. Read on to uncover what makes Melissa truly exceptional.
Q: Can you tell us about your journey to becoming a nutritionist?
A: My passion for healthcare and wellness began at a young age, leading me to pursue a career in the dental field. However, as I contemplated dental school, a profound personal experience – a cancer diagnosis within my family – ignited a new direction. I realized that my true calling lay in the field of nutrition. With renewed determination, I embarked on a path to earn my Master's in Science in Applied Clinical Nutrition from The Northeast College of Health Sciences. This decision proved to be the pivotal moment that guided me toward my current role as a nutritionist, where I can help others achieve their health and wellness goals.
Q: What drew you to TMC and inspired you to join the team?
A: Witnessing the transformative power of integrative medicine during my time working for a biological dentist while pursuing my Master's degree ignited a passion within me. Seeing individuals heal through a holistic approach solidified my belief in the profound impact of integrative medicine. I yearned to merge my previous experiences with newly acquired knowledge in a unique and meaningful role. As fate would have it, I discovered that TMC was seeking a supplement manager, a position that perfectly aligned with my aspirations. The prospect of empowering countless individuals through my expertise fueled my excitement, and it became clear that TMC was the ideal place for me to embark on this fulfilling journey.
Q: What aspect of your work at TMC brings you the greatest satisfaction?
A: The most rewarding aspect of my role at TMC lies in forming genuine connections with individuals and guiding them along their path to wellness. Our patients are truly remarkable, and having the privilege to provide them with support and guidance is an honor I cherish deeply. When a patient returns to express gratitude for the positive impact I've had on their well-being, it fills me with immense joy and reinforces my belief in the profound impact of my work. Being a part of someone's healing journey is a privilege I never take for granted.
Q: What is the most demanding aspect of your role as a supplement manager?
A: The most demanding aspect of my role lies in staying abreast of the ever-evolving landscape of supplements. The continuous influx of new research, product introductions, and reformulations necessitates a constant vigil to ensure we offer our patients the most effective and up-to-date options. Navigating the dynamic nature of product availability can be challenging, requiring careful consideration of additions, replacements, and stock adjustments. However, I am deeply appreciative of Dr. Morrison and the other practitioners' unwavering commitment to open communication regarding the integration of new supplements into our rotation. Their collaborative approach fosters a sense of belonging within TMC, and I take great comfort in knowing that we provide our patients with a curated selection of high-quality, evidence-based supplements that support their health goals.
Q: What are your top five favorite supplements and why?
This is a question I'm frequently asked, and my response always remains the same: If I were stranded on a deserted island, these are the supplements I would want to have with me:
Bee Propolis: While it may not be everyone's cup of tea, this natural substance has become my go-to remedy whenever I feel a cold or sore throat coming on.
NAC: An excellent supplement for detoxification, immune support, and respiratory function, I turn to NAC when I feel congestion or stuffiness. It's also a staple in my travel routine to help prevent getting sick on airplanes.
Glutamine Plus: This supplement has been instrumental in my own gut-healing journey. Whenever I experience reflux or an upset stomach, I take some glutamine, and it effectively soothes the discomfort.
We hope you enjoyed learning more about Melissa as much as we've enjoyed having her on our team. The next time you're in the office, be sure to say hi to Melissa and tell her what your favorite supplements are!