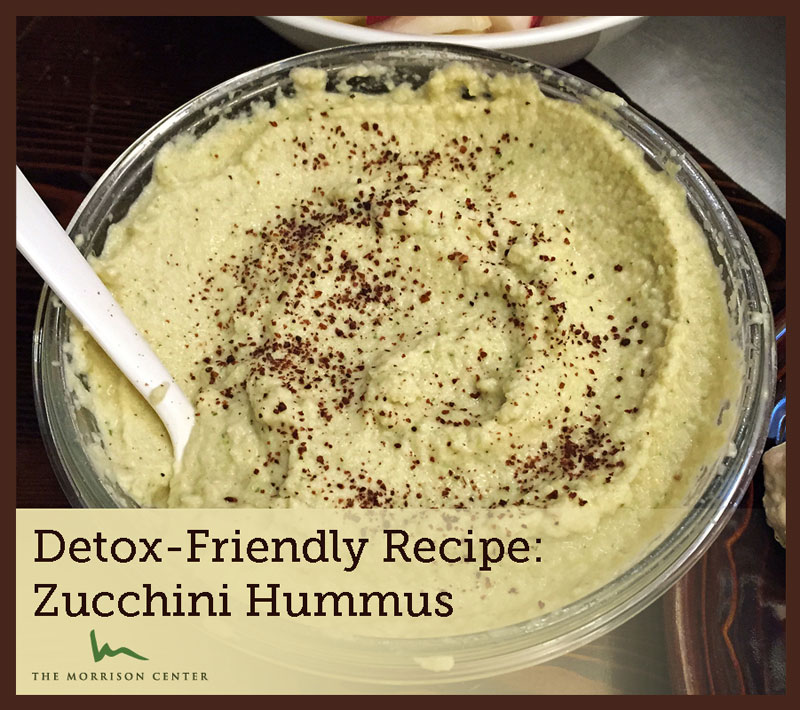 We're always looking for new healthy snack ideas, especially those that anti-inflammatory ingredients acceptable on the Daily Benefit® detoxification program.  Zucchini hummus is a delicious, low carb, legume-free alternative to traditional hummus. Enjoy as a side dish or light yet satisfying snack with raw vegetables. It's also a delicious topping for  Chicken & Zucchini Poppers.
Ingredient highlights:
Zucchini provides fiber, folate and potassium for healthy cellular function, along with vitamin C and carotenoids, offering antioxidant benefits.
Sesame seeds are mineral-rich with notable amounts of copper, manganese, and calcium. They also provide a beneficial substance called sesamin, found to support healthy cholesterol and protect the liver.
Garlic is rich in powerful sulfur-containing compounds, which supports liver health and cardiovascular function; it also offers anti-inflammatory, antibacterial and antiviral benefits.
Yields 4-5 servings
Ingredients
2 medium zucchini (peel on)
2 Tbsp tahini (sesame seed paste)
Juice of 1 lemon
1 garlic clove
1/4 cup extra virgin olive oil
Sea salt and black pepper to taste
Optional: pinch of sumac or za'atar*
*Traditional hummus is spiced with paprika for a slightly smoky flavor; paprika is in the nightshade plant family, which can have an inflammatory effect in some individuals; the Middle Eastern spice sumac or za'atar (a blend of ground sesame seeds, sumac, thyme, sea salt and sometimes oregano and cumin) are wonderful substitutes.
Instructions
1. Place all ingredients except olive oil together in a food processor
2. Run the food processor slowly, drizzling the olive oil in as it runs; this emulsifies the oil for a creamy consistency
3. Serve chilled with raw vegetables
4. Optional: top with a sprinkle with sumac or za'atar and a drizzle of olive oil
Note: For added flavor, grill or roast the zucchini before blending.
Our Health Coaches are a wonderful resource for more recipes, healthy meal plans and practical tips to ensure results. Download our  Health Coach brochure, or contact us to set up an initial session.
Learn how Dr. Morrison's Daily Benefit® program can help you lose weight and achieve your health goals for long-term wellness.