By Dr. Morrison
Despite our best efforts for prevention, we all get sick from time to time especially during cold and flu season. In this special video from Dr. Morrison, he shares his effective strategy for overcoming an active infection.
When you fall under the weather, give your body the time and rest it needs to heal, and follow these important tips to speed your recovery:
Eat for immune health, including:
Chicken soup

My mom was nice enough to share her secret recipe for this amazingly healing dish. Check it out here. People love it!

Ginger tea

Ginger is an herb that helps warm the body and curb cold symptoms
Listen to your body:
People often ask, "Should I work out when I'm sick?" If your body is telling you to stay home in bed, you should listen. You'll heal faster and feel better for taking the time off.
Take immune boosting supplements in specific doses to target infection:
Medicinal mushroom

Enhance and stimulate the immune system
Anti-viral, anti-bacterial and liver-supportive

Vitamin C – Take 1,000mg Buffered Vitamin C every hour until symptoms improve

Acts as an antioxidant to help decrease inflammation
I prefer a "buffered" vitamin C with alkalinizing minerals to make it less acidic – this allows higher doses to be tolerated orally

Herbal support: Andrographis – Take Andrographis, 2 tablets twice daily until symptoms improve

Acts like a natural antibiotic
Powerful anti-inflammatory effect
Shown in studies to ease symptoms and shorten the duration of the common cold and other respiratory infections:

Consider a Vitamin C IV Immune Protocol 1-2 times weekly at The Morrison Center or ask your doctor if they do Vitamin C IVs and whether that treatment is right for you.
To help you fight an active cold or flu infection this winter I've put this protocol into an ACTIVE TREATMENT package, available in-office or online at DailyBenefit.com: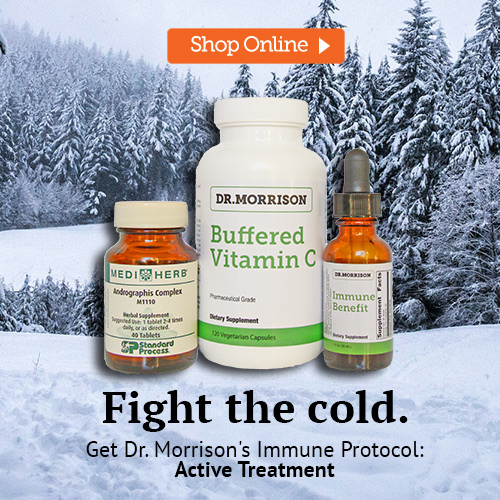 And for a limited time we are offering 20% off this package – just enter code WINTERHEALTH at checkout.
Limit one use per customer. Offer ends December 31, 2015.
Please call 212.989.9828 or email us with any questions, and stay healthy during this flu season!
IMPORTANT NOTE: These statements have not been evaluated by the FDA and are not intended to treat or cure any disease.