By Debra Kaplan,

 

Health Coach

A recent Saturday morning in August at the Kingston farmer's market was such a delight, it turned food shopping into an "un-chore." It's the height of summer and the fragrance of stone fruits is starting to blend with crisp apples. The greens were so vibrant they were begging to be eaten right then and there, and the heirloom tomatoes were true show offs, plump and bulbous – like snowflakes, no two looked alike. Gooseberries in their papery pods…had to try some of them. Wax beans, ghostly versions of the green bean would surely be delicious steamed and tossed with vinaigrette. And what's that…rhubarb? I didn't know they were available this time of year.
 I went to the market empty of ideas and menu plans. I let my instincts pull me in interesting directions and, after unpacking my haul in the kitchen, my wheels started to turn. I was intrigued that tomatoes and rhubarb can grow side by side and I thought there must be a recipe where they're used together.  Sure enough, a quick Google search turned up a beautiful salad recipe that paired the two with cherries, also in high season. Amazingly, I had all of the ingredients I needed, and plenty more from the farmer's market that would have made excellent additions if I decided to go rogue. All I needed was a protein to make the meal complete. Wild coho salmon from my freezer did the trick.
The takeaway? Let the season's bounty be your starting point instead of a recipe. Chances are that with a little research, you'll find delicious recipes for vegetables and fruits that grow in the same season. Choose from a broad range of plants – leafy greens, cruciferous, colored vegetables – and you'll be giving you and your family all the nutrients needed for optimal health and vitality.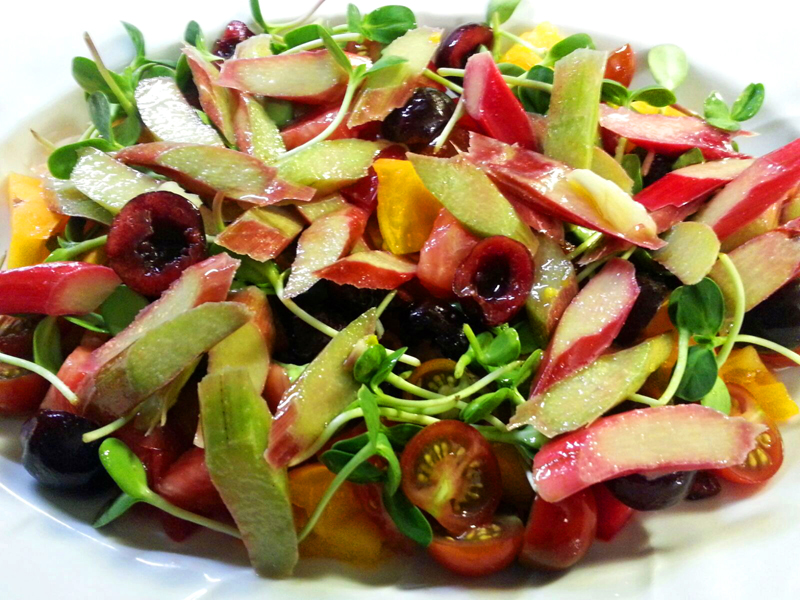 Tomato, Rhubarb and Elderflower Salad – adapted from Yotam Ottolenghi
Serves six to eight.
2 tbsp elderflower cordial (substitute Orange Flower Water or Rosewater)
2 tbsp olive oil
4 tsp cider vinegar
2 tsp Dijon mustard
1 garlic clove, peeled and crushed
Salt
1-2 sticks pink rhubarb
3 lbs. mixed tomatoes, cut into chucks
1 tbsp fresh oregano leaves
1 handful fresh elderflowers (optional) – substitute microgreens, sunflower shoots or pea shoots
Put the first five ingredients in a bowl with a half-teaspoon of salt and whisk. Using a peeler shave the rhubarb on an angle into strips. Add to the bowl and leave to marinate for 30 minutes. Arrange the tomatoes on a platter and sprinkle with a pinch of salt. Spoon over the rhubarb and dressing, scatter the oregano on top, and finish with elderflowers or greens, if using.