By Martha Friedlander
If you want healthier skin, then cucumbers are the answer. This superfood offers so many healthy benefits it has become one  of the most  important parts of food diet, as well as skin diet.
Cucumber's official scientific name is "Curcumas sativa" and it belongs to the same family as squash. There are many beneficial nutrients (as well as fiber) in the skin of the cucumber.
However, mainstream cucumbers you see in a regular produce aisle are frequently covered in insect repellant, pesticides or animal or petroleum-based wax, This offsets the plethora of benefits they have to offer.  That is why we want to focus on buying organically grown.
This superfood's flesh is made up of mostly water, however, it contains vital nutrients such as Vitamin C and Caffeic acid – these nutrients help hydrate, heal and soothe the skin. These antioxidants also help with skin irritations and aid in reducing puffiness, inflammation and swelling.
Since the beginning of time, cucumbers have been used  in daily skin care regimens. They are rich in Silica, which is essential for healthy cells and connective tissue. It's juice (as a source of silica) is great for improving complexion and health of skin, plus it is naturally hydrating.
Use this recipe below  as a great face wash.
Mix half a cup of organic milk with one tablespoon of cucumber juice and use just as you would your regular face cleanser. Rinse off with warm water and pat dry.
This mixture can store for up to one day in a fridge. This will clean, tone, and refresh your skin all at once.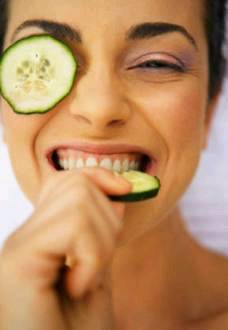 Dark circles? Under-eye bags? Puffiness? Here's a quick tip:
Lie down and place 2 of slices of Organic cucumber on your eyes, making sure they touch the puffy areas, and let sit with eyes closed for 10 – 15 minutes. Remove once the time is up! Voila! You will notice the difference instantly! Enjoy your renewed healthy look!
Look great and be healthy!
Martha Friedlander