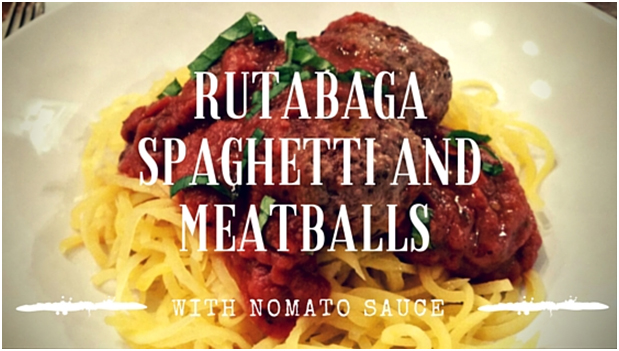 Pretty much everyone can agree that a heaping bowl of meatballs and spaghetti activates the appetite, but our version does even more. It's a nutrient-rich recipe that goes straight to the heart with beneficial antioxidants Vitamins C and A. We weren't sure what to expect when we delved into creating a healthy alternative to this classic Italian dish, but we were delighted with the results. Especially surprising was the nightshade-free version of tomato sauce, which melds together its ingredients to a finish so good, you'll wonder why it took you so long to discover rutabaga! And, unlike tomato sauce, this sauce doesn't separate or become watery, but hugs the noodles to the last bite. And who doesn't want a hug on Valentine's Day?
For the meatballs:
Makes 12 meatballs
Ingredients:
1 lb. grass fed ground beef
1 egg
1/3 cup nutritional yeast
2 garlic cloves, chopped and sauted in 1 tsp ghee
1 tbsp Italian seasoning
1/2 tsp. salt
1/4 tsp. pepper
Instructions
1.) Preheat oven to 400
2.) Line a cookie sheet with parchment paper
3.) Combine ground beef, egg, nutritional yeast, Italian seasoning, salt and pepper in a mixing bowl
4.) Add sauted garlic and combine
5.) Wet your hands in lukewarm water and roll the meat into 12 balls, approximately golf ball size
6.) In frying pan on medium heat, fry the meatballs just until their surface is browned, then place them on the cookie sheet
7.) Bake for 20 minutes, turning them halfway through
Enjoy after an appetizer of Minted Beet Napoleons with Cashew Cream and follow it up with Pavlova with Coconut Cream and Fresh Fruit.
For the "Nomato" Sauce
Adapted from theurbanposer.com
Makes about 1 1/2 quarts
Ingredients:
1 1/2 cups carrots cut into 1″ cubes (approx. 2 medium carrots)
3 cups butternut squash cut into 1" cubes (approx. 1 1/2 lb squash)
1 1/2 cups peeled red beets, cut into 1″ cubes (approx. 3 medium beets)
5-6 garlic cloves, minced
1 medium onion, diced
3 tbsp ghee
1 1/2 cups filtered water
1 cup deep red wine, such as Merlot, Cabernet or Malbec
2 tablespoons apple cider vinegar
1/4 cup lemon juice (approx. 1 large lemon)
1-2 whole bay leaves
2 tbsp dried Italian herb blend
1/2 – 1 cup, adjust to desired consistency
2 teaspoons sea salt, or to taste
1 teaspoon fresh cracked pepper, or more to taste
1.) On medium heat, steam the carrots, butternut squash and beets together, until soft, in a stovetop steamer.
2.) While the veggies are steaming, heat the ghee over medium heat, add the onions and reduce the heat to low heat, allowing the onions to caramelize. Toss them frequently to prevent sticking to the pan. Once they are translucent and golden, add the garlic and continue sweating the mixture until the onion and garlic is soft, browned and fragrant.
3.) Transfer the steamed vegetables, onion and garlic, water, wine, vinegar and lemon juice to a blender container and blend till smooth. Transfer the puree to a medium sauce pan.
4.) Stir in the bay leaves, herbs and 1/2 cup water (or more wine). Bring the sauce to a simmer over medium heat for a least 25 minutes. Stir periodically to keep the sauce from sticking or burning to the bottom of the pan. Cook down the sauce to develop its flavor; add more liquid as needed until you reach the desired consistency.
5.) Remove from heat. Remove the bay leaves. Add the salt and cracked pepper to taste.
6.) Serve immediately or pour into jars and let cool to room temperature. Store in the fridge for up to a week, or portion it in small container in the freezer.
7.) To serve, reheat over medium heat, adding more water if necessary to reach desired consistence.
For the rutabaga spaghetti:
Yields 1 large serving or 2 small servings
Ingredients:
1 large rutabaga, peeled of its wax coating
2 tbsp ghee for sauteing
1/2 tsp sea salt
Filtered water, as needed for frying
Ground pepper to taste
Instructions:
1.) Slice the rutabaga in half, then cut each half into quarters
2.) Using your spiralizer on its "shredder" blade, process the rutabaga into spaghetti spirals and place in a large bowl
3.) Sprinkle with salt and let stand for 5 minutes
3.) Using chef's scissors, randomly cut the spirals to cut any super long strands
4.) Melt ghee in large frying pan
5.) Saute the rutabaga until it becomes "al dente" and translucent. Add water as necessary to keep it from sticking to the pan and to help it reach the proper "bite"
6.) Add ground pepper to taste
Assembling the dish:
Ingredients:
1 1/2 cups rutabaga spaghetti
3 meatballs
3/4 cups "nomato" sauce
1 tsp nutritional yeast
1 tsp chopped basil or parsley
1.) Place a nest of rutabaga pasta in a shallow bowl
2.) Add three meatballs
3.) Top with 3/4 cup of "nomato" sauce
4.) Sprinkle the finished dish with nutritional yeast and chopped basil or parsley
Love Note: High in Vitamin C, 1 ½ cup of rutabaga contains an astounding 80% of the daily recommended value of this heart-protective antioxidant.
Supplement Spotlight: Show Your Heart Some Love
Buffered Vitamin C
Vitamin C plays an important role in vasodilation by helping blood vessels to relax. It helps protect the heart from plaque accumulation, high blood pressure, and changes in the blood vessels that precede heart disease.
Our Buffered Vitamin C combines a highly absorbable form of vitamin C together with the buffering minerals magnesium, potassium and calcium to allow for higher doses without stomach upset, and for supporting proper muscle relaxation and contraction.
Omega Benefit
Research has shown that the addition of omega-3 fatty acids to the diet supports a range of cardiovascular health benefits. These unique fatty acids are shown to lower triglyceride levels, slow the growth rate of arterial plaque, improve blood pressure and decrease the risk of abnormal heartbeats (arrhythmias).
Our Omega Benefit's five-star certification from International Fish Oil Standards (IFOS) assures that you're getting concentrated fish oil with the highest level of purity, potency and stability.
Easy-to-swallow, enteric-coated softgels*
Supports cardiovascular health*
Supports healthy mental functioning*
Supports healthy glucose and insulin metabolism*
*These statements have not been evaluated by the FDA and are not intended to treat or cure any disease.