By Stephanie Kurz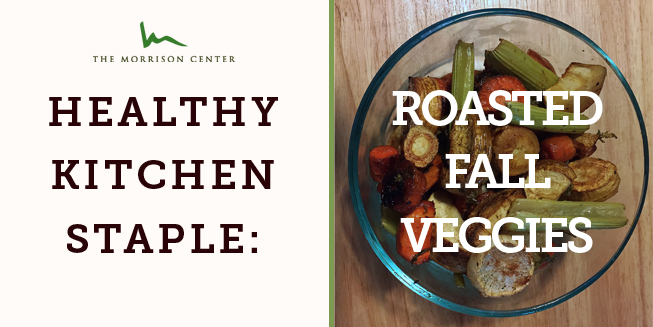 You will love this recipe for several reasons:
It's easy and efficient — prep time is minimal, and one batch can last several days to a week!
It's flexible and practical — you can use up whatever veggies you have in your fridge.
It's multipurpose — it can serve as a side dish, a healthy snack, or even part of a warm breakfast with eggs.
Ingredients:
Scale this recipe up as much as you like!
2 pounds of seasonal vegetables — beets, carrots, red onions, broccoli and Brussels sprouts work particularly well
1 tablespoon coconut or extra-virgin olive oil
½ teaspoon sea salt
½ teaspoon ground black pepper
Large handful of fresh herbs (rosemary and thyme work great)
Instructions:
Preheat oven to 375ºF
Chop veggies into bite-size pieces (Tip: wash and pre-chop your veggies as soon as you bring them home from the store or market — you'll be more likely to actually cook them!)
Meanwhile, in a large baking dish, combine sweet potatoes, red potatoes and onion with oil, thyme, rosemary, salt and pepper.
Roast for 30 minutes, remove from oven to gently stir and make sure all pieces are coated with oil. Return to oven and roast for another 20-30 minutes or until veggies are fork-tender.
Enjoy warm.