By Debra Kaplan and Stephanie Mandel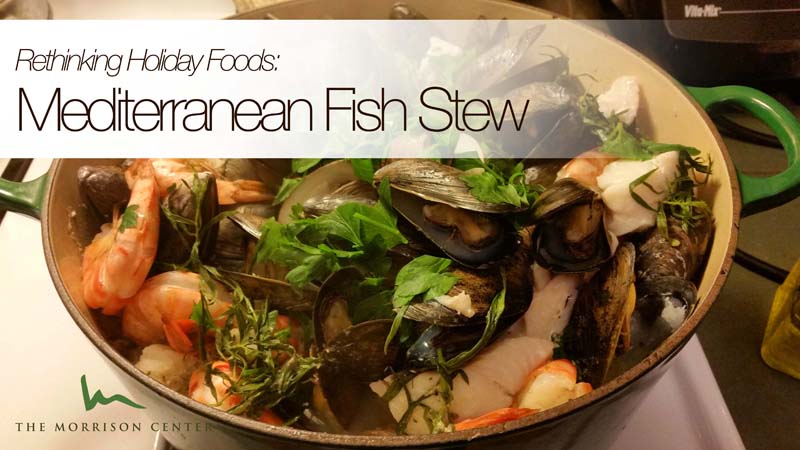 We all have our favorite holiday foods, the once-a-year treats we look forward to every holiday season. Maybe it's your aunt's sweet potato casserole, your mother's feast of the seven fishes or your sister's death by chocolate. This month we revisit these three holiday classics and offer up newer versions that are decidedly delicious and happily nutritious.
This week, we start with a fish soup that turns the traditional Italian American Feast of the Seven Fishes into a scintillatingly delicious one-pot meal. The star of this showy soup is, of course, the fish. All seven of them meld their flavors into a delicate, flavorful broth that will have your guests asking for the recipe. Our suggestion, make it their parting gift!
Part I: Feast of the Seven Fishes Soup
Ingredients:
1/4 cup olive oil
2 anchovy filets
1 onion, finely chopped
3 garlic cloves, finely chopped
1 parsnip, chopped into 1/4 inch pieces
2 carrots, chopped into 1/4 inch pieces
2 celery stalks, trimmed of tops and chopped into 1/4 inch pieces
1/2 teaspoon dried hot red pepper flakes
1/4 teaspoon dried oregano, crumbled
4 cups fish stock or a 32 oz. bottle of clam juice
1 cup dry white wine
4 1/2 cups water
1/8 teaspoon black pepper
3/4 teaspoon salt
1/4 cup chopped tarragon
1/4 cup chopped flat-leaf parsley, plus extra for garnish
1/2 lb. large deveined shrimp (approximately 12), with tail shell in tact
1 lb. cleaned squid with tentacles separated
12 small clams such as littlenecks (less than 2 inches in diameter), scrubbed
12 mussels scrubbed and beards removed
1/2 lb. skinless white fish (halibut, cod, or hake) cut into 1-inch pieces
1/2 pint bay scallops
Prep the fish:
1. Rinse squid under cold running water and pat dry. If squid are large, cut longer tentacles into 2-inch pieces. Cut squid bodies into 1/4-inch rings.
2. Rinse shrimp and scallops on cool water and pat dry.
3. Rinse mussels and clams in cool water to remove any grit.
4. Rinse fish fillets and pat dry.
Cook the soup:
5. Heat oil in a wide 6- to 8-quart heavy pot over moderate heat. Add the anchovies and saute with a wooden spoon or spatula until they break down, dissolving into the oil.
6. Add the garlic and saute until fragrant, then add the onion and saute until translucent.
7. Add carrots, parsnips and celery and saute until their colors brighten. Then add the pepper flakes and oregano and cook until fragrant.
8. Add the white wine and let it simmer for five minutes. Then add the clam juice and water. Allow the broth to simmer until the vegetables are softened. Add salt and pepper to taste. Then add the tarragon and parsley, reserving enough to garnish the individual servings. Turn up the heat to moderately high.
9. Layer in the clams, mussels, and squid and cook covered until the shells start to open, about 10 minutes. Then add the white fish, cover the pot and cook for 3 minutes, then add the shrimp and scallops. Cook until the shrimps turn pink and the white fish and scallops are cooked through, around 3 minutes.
10. Scoop seafood and fish into deep bowls, ladle in the broth and top with chopped parsley and tarragon.