By Jeffrey A. Morrison, M.D.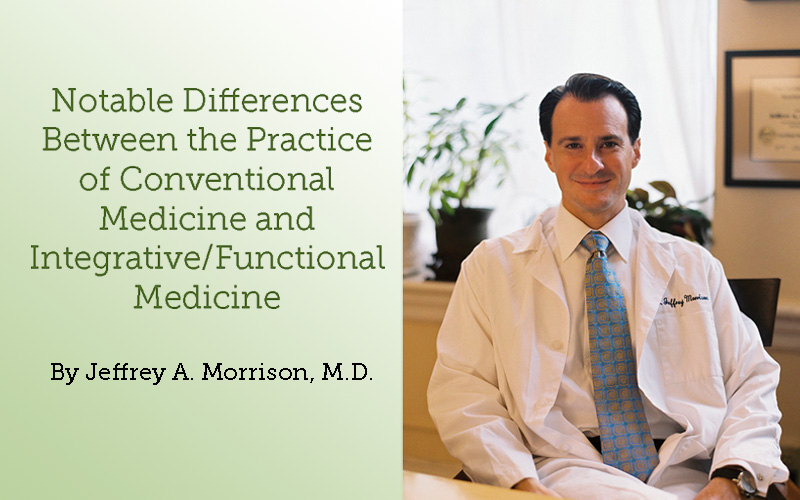 Many patients have asked me to explain how we at The Morrison Center, in our practice of integrative and functional medicine, do things differently than conventional medical doctors. Since I founded The Morrison Center in 2004, the answer to this question has evolved with technology and exciting new health-enhancing treatments.
Through a partnership of patient and practitioner, integrative medicine seeks to treat the whole person — body, mind, spirit, and environment — to promote health and wellness through the treatment and prevention of disease. Functional medicine, as defined by the Institute for Functional Medicine, addresses the underlying causes of disease, using a systems-oriented approach in order to identify and try to fix imbalances in the body. At The Morrison Center, we merge integrative and functional medicine to assist the innate healing properties of each patient.
In many ways, integrative/functional medicine and conventional medicine are similar. They are both practiced by licensed medical professionals; both are evidence-based, employ advanced diagnostic tests, and may use prescription medications. Conventional medicine is excellent at addressing acute and urgent medical conditions: heart attacks, broken bones, physical trauma and acute illnesses are generally promptly diagnosed and well cared for under the conventional medical model. We should all be comfortable going to the emergency room and putting ourselves under the care of skilled doctors, surgeons, and hospital staff. Conventional medicine has become extremely effective in developing techniques to treat these acute problems.
Integrative and functional medicine differ from conventional medicine in the philosophy that guides our approach to chronic symptoms. When a patient has experienced long-lasting or recurring symptoms, conventional medicine does not tend to address the underlying cause. The focus is instead on the symptoms, and treatment is often geared toward turning those symptoms off. Conventional medicine will often treat symptoms such as indigestion, bloating, poor focus, fatigue, rashes, and recurring pain with anti-inflammatory medications, acid blockers and antacids, stimulants and steroids.
At The Morrison Center, we believe such ailments are best resolved by identifying and treating the underlying cause. We do not prescribe the medication mentioned above because we believe they stop the body from responding to the real causes of the symptoms; if the underlying causes are not addressed, problems can progress and worsen. We help guide the patient's healing process with the belief that the body has an innate ability to heal itself. We do everything we can to fortify the entire body with the goal of enhancing each individual's healing process.
We have learned that irritating, chronic and painful medical conditions are often the consequence of the foods we eat and the chemicals we ingest in our living and working environments. The ways we cope with stress can affect our healing responses, sometimes leading to exhaustion or burnout. Similarly, we look for the causes of problems in possible infections or parasites, chemical toxin exposures and other conditions not considered by conventional medicine. We address the stresses our patients endure in their work and personal lives, and we provide necessary treatments to address the sources and triggers of those stressors. And while we generally do not prescribe pharmaceutical products, we often recommend supplements to tailor our treatments to the unique problem our patient is experiencing. In other words, our treatments are individualized.
Based on our experience in dealing with patients in New York City, we believe that our integrative and functional medicine approach stands apart from conventional medicine in the following ways:
We treat the causes and not only the symptoms
We focus on the root cause of disease, with the objective of eliminating not only the symptom, but also the underlying problem.
We look at the whole body
Our holistic approach allows us to view the body as an interconnected matrix rather than a collection of separate systems.
We address the body/mind/spirit connection
We examine the physical and emotional aspects of illness. Stress is a potent disruptor of many enzymes, hormones, and the nervous system—we recognize this, bring awareness to potential stresses, and prescribe supplements and strategies to improve a healthy balance between mind, body, and spirit.
We work on the cutting edge of diagnostics and interpretations
We use the latest diagnostics to look for deficiencies, which may include genetic testing when warranted. We order lab tests seeking optimal ranges, rather than "normal" values, and we take advantage of the latest advances in medicine to personalize a treatment plan for each patient.
We strive to enhance the body's innate healing ability
Many people do not require pharmaceuticals, which often have significant side effects. Where appropriate, we recommend diet, exercise, lifestyle modifications, and natural supplements. If medication is needed, we will prescribe it, along with supplements to decrease the risk of side effects.
We partner with our patients to achieve optimal health
We believe the doctor and patient are equal partners in medical care. Two-way communication is hard to accomplish in the average 10-minute conventional office visit—we spend 30 and often 60 minutes with our patients. We talk with our patients and we listen.
Conventional medicine, as practiced at most U.S. hospitals and academic centers, is excellent for many things. Integrative and functional medicine build on the technological advances we have seen in conventional medicine, with a focus on prevention and helping each patient achieve optimal health and wellness. The two systems go hand in hand; as integrative and functional medicine doctors, we are also conventional medical doctors, but we believe, and our many satisfied patients will confirm, that our practice of medicine provides superior treatments for our patients.
Learn more about our team and the services we offer at The Morrison Center.