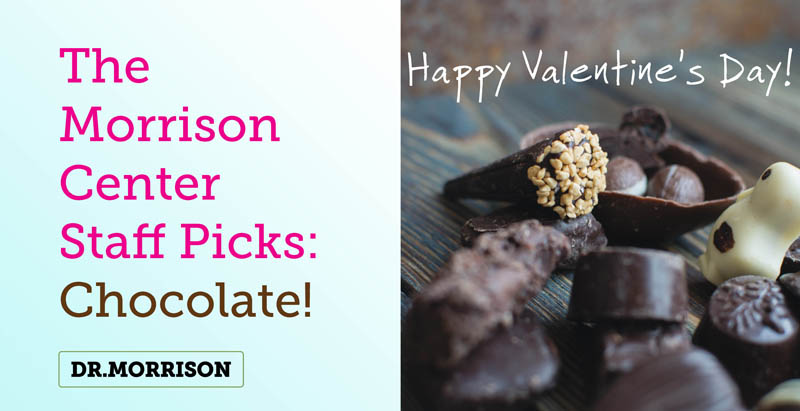 If you've read this week's post  in which Dr. Morrison shares ways to increase feelings of love and connectedness, you'll be happy to know that he views dark chocolate as a true superfood. Eaten in moderation (an ounce several times a week) — as long as it's at least 70% cacao and dairy-free — dark chocolate can provide a number of benefits:
Supports nitric oxide production, an antioxidant necessary for healthy blood flow
Helps to stimulate production of endorphins and feel-good neurotransmitters like dopamine and norepinephrine
Provides magnesium, a relaxing mineral many of us are lacking
With so many options to choose from, we asked our staff for their chocolate favorite brands to help you optimize your selection this Valentine's Day:
"Mast Brothers!" – Dr. Morrison
"Cacao Prieto, 72% dark organic single origin with coffee and sea salt." – Hildy Abel, Practice Manager
"Chocolove from Whole Foods."– Jerry Simons, PA-C
"Godiva."– Lillian Gitter, Medical Assistant
"Trader Joe's 72% Dark Chocolate, and their Bittersweet Chocolate with Almonds."– Dr. Moreno
"Vosges! They have crazy flavors like 'Reishi Mushroom & Walnut' and 'Matcha Green Tea &Spirulina.'" – Stephanie Kurz, Health Coach
"Jelina Chocolate's Feu Fire if you like some spice!" – Onica Moore, Front Desk Supervisor
"Jelina Chocolate's 72% Dark Chocolate Bar with Sea Salt."– Debra Kaplan, Health Coach
"Vosges' Mo's Dark Chocolate Bacon Bar. Bacon. 'Nuff said." – Andrea Mendoza, Medical Receptionist
What's your favorite dark chocolate? We'd love to know!
Wishing you all love and chocolate this Valentine's Day,
The Morrison Center