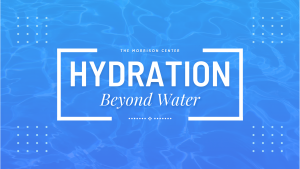 Did you know that by the time you feel thirsty, your body has already entered a mild state of dehydration? While we all need water to prevent dehydration, certain individuals fare better with different amounts of water. In fact, hydration goes deeper than just sipping water all day long. 
Water Balance
As with most things in life, we need to find the daily balance when it comes to water intake and output. On average, we lose about 2.5 L of fluid and ideally take in 2.5 L of fluid each day.[1,2]* Consuming too little fluids can lead to dehydration, while excessive water intake can actually lead to overhydration.[3] Such imbalances can impact daily living, performance, urinary health, heart health, gastrointestinal health, cognitive function, skin integrity, and numerous other health conditions.[4 ]
Electrolyte Balance
Yes, water is key to proper hydration, but chugging pure water is not the best way to get water into our cells. Our bodies work hard to maintain something called cellular equilibrium, which in this case, refers to the balance of water and electrolytes optimal for daily functioning. When the body doesn't have enough electrolytes in the cells, water moves out of the cell, leading to cellular dehydration. On the other hand, drinking too much distilled water can dilute the electrolytes in circulation, causing water to move into cells with higher concentrations of electrolytes and potentially lead to these cells bursting. Drinking mineralized water promotes a healthy balance of water and electrolytes, keeping our cells happy and hydrated.
Signs of Hydration Deficiency

Thirst

Dark urine

Dry mouth

Fatigue

Headache

Confusion

Lightheadedness



Hydrating Foods
Hydrating vegetables include:

Cabbage

Lettuce

Cucumbers

Bell peppers

Squash (cooked)

Zucchini

Celery

Fennel
Hydrating fruits include:

Cantaloupe

Watermelon

Strawberries



Hydrating liquids that aren't plain water:
Soup/broth

Herbal tea

Sparkling water

Water infused with berries/lemon/cucumbers/flowers

Pinch of salt in filtered water
Supplements We Like to Support Hydration**
Need a little more guidance on how to increase hydration in your daily life?
Consider working with one of our integrative health coaches to help you identify the best foods and supplements to rebalance your system. Call our office to find out more: 212-989-9828.
*The range is 2-2.7 L/day for adult females and 2.5-3.7 L/day for adult males.1
**These statements have not been evaluated by the FDA and are not intended to treat or cure any disease.
References