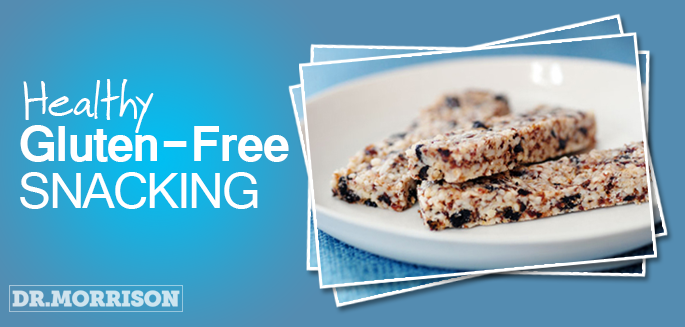 By Dr. Deanna Attai

When I'm speaking to someone about diet, and especially a gluten-free diet, one of the most frequent question I am asked is "What do you eat?"
I think about the adjustments that I've made in my life since switching to a gluten-free diet:
avoiding gluten-containing ingredients
learning to prepare healthy meals, and
eating more seasonally and locally
And then the person invariably states "No, what do you EAT? Tell me EXACTLY, how do you do this?"  Whether you're on a gluten-free diet or just trying to eat healthier, snacking is difficult.
Snacking has a bad reputation, as it often implies sitting on the couch mindlessly eating the contents of a bag of chips (while watching some mindless TV), or sitting at the computer, munching on M&M's or some cookies until all of a sudden, the bag is empty, and you feel a little ill…
Snacking is a part of my normal eating pattern. I have three small, nourishing  meals: breakfast, lunch and dinner. My meals contain some lean protein (often quinoa, legumes, wild salmon or eggs) healthy fats, and a variety of vegetables.
Our bodies are not meant to process large meals all at once, and in order to maintain my energy and alertness, I've found that I do better eating more than just 3 times in a day. I will routinely have a mid-morning healthy snack, and depending on the length of the workday, an afternoon one as well.  With the exception of some fruit or maybe a little dark chocolate, I don't eat after dinner – I don't like to go to bed full, and eating before bed is a good way to exacerbate medical conditions such as heartburn. It's also not easy for your body to rest and rejuvenate when it's focusing all the energy on digesting and processing a large meal.
When I'm looking at the day's meal plan, snacks are included – it's my chance to get the extra nutrients (and a few goodies) that don't fit into my regular meals. However just as with regular meals, portion control is important. Planning for a healthy snack has also resulted in fewer cravings – if I know that between 3:30-4pm I'm going to have some fresh figs with walnuts, or one of my homemade oatmeal raisin cookies and a cup of green tea, I'm less likely to raid the candy dish that's at the front desk in my office (although it is stocked with organic dark chocolate!).
When you're gluten-free, you have to plan ahead with regular meals as well as with snacks. Going gluten-free has forced me to be a healthier snacker, as I can't just reach for a bagel or muffin in the morning or the cookies that might be lying around the office in the afternoon.
Listed below are a few of my healthy gluten-free crunchy snacks. Remember to be creative, mix and match!  I prefer to make my own – I know exactly what I am getting, I can tweak the recipe for my personal taste, and many times it's much less expensive to make my own rather than purchase something pre-made. Again, planning ahead is key, but many of the recipes that I've referenced below and ones that you will come across can be made and frozen in individual serving sizes so you can have easy access whenever the craving strikes!
Some Sample Healthy Snacks:
Less Time
Banana or apple with nut butter (raw almond butter is my favorite)
Fruit (whatever is in season) with date-walnut bars from Elena's Pantry
Cherry-Vanilla power bars from Elena's Pantry
Handful of raw almonds or walnuts, some raisins or other dried fruit; favorites include dates, figs, and dried apricots. Be careful as some dried fruits have a very high sugar content so as with anything, moderation is key.
Hard-boiled egg – another good one for when you need a quick, no fuss snack
Slice of Gluten-Free bread or crackers with 1-2 oz cheese and a few walnuts (I have not yet mastered gluten-free bread baking so I buy these prepared  – but it's on my list!)
Don't forget the dark chocolate! The less processed the better, and while there should be no gluten-containing ingredients in most chocolates, often flour is used in some processing plants. If the label does not clearly state gluten-free, call or email the company to be sure. Stick to a small amount (about 1 oz) per serving – again, moderation is key, and if you're eating the really good stuff, you'll be satisfied with just a little bit.
More Time
Fruit Smoothie – I use rice or almond milk, whatever fruit I've got handy (fresh or frozen), and then throw in some fresh mint and kale and let the blender do the work. This is a good use for fruit that might be a little too bruised to eat fresh, and also a great way to get a few servings of fruit when you're on the go.
Raw Vegan Brazil Nut Chocolate Milkshake from The Blender Girl
Homemade Granola – plain, with milk of choice, or yogurt
2 cups gluten-free oats, ½ cup sunflower seeds, ½ cup pumpkin seeds, ¾ cup brown sugar, 1 egg white, 2 T walnut oil, 1T cinnamon, 1T vanilla.  Mix all ingredients; bake in preheated 325 Oven x 15 minutes. Mix, stir in 1 cup to your taste – almonds, walnuts, raisins, dried cranberries, other dried fruit. Bake another 15 minutes, stir, cool, enjoy!