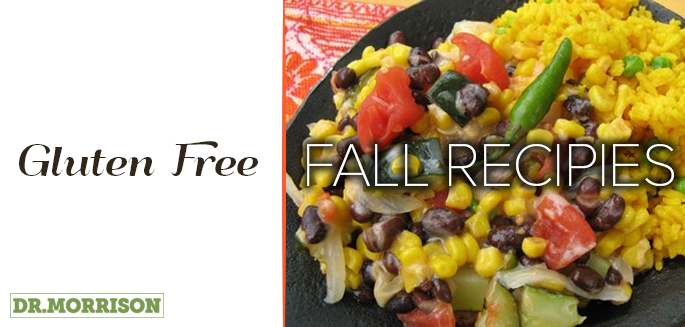 By Dr. Deanna Attai
The season is changing: shorter days, cooler temperatures, and crisper air. And, it's time to break out those gluten-free diet recipes for fall!  Salads, my summer staple, just don't satisfy me like they did in July and August – I want something warm and nourishing.
As the days get shorter, it also seems that I have less free time and having prepared or easy to prepare meals becomes even more important. I'm not willing to compromise on packaged foods (even if they are gluten-free), so as with all aspects of gluten-free  dining, planning ahead is key.
Here are some basic ideas and recipes below just to serve as a guide – use your imagination!
I will often spend Saturday morning at my local farmer's market and harvesting vegetables from my garden, then will go to work making some of the basics and preparing meals that will stock my fridge or freezer – that way I'm ready for the week.
Many of the meals are made in one pot, making cleanup much easier. All of the meals are vegetable-based, but additional protein can be easily added – just add fish, chicken, turkey, beef, eggs, or tofu. Or if you're vegetarian or vegan, just increase the amount of quinoa or add beans or lentils; remember quinoa is a complete protein! And, all have the option of serving as a lunch or dinner – just vary the portion size and accompaniments.
To get started, prepare your staples:
Quinoa – it takes just as long to make a single portion as it does to make a large batch, so I make it in batches; when cooled, portion into freezer-safe containers.
Brown Rice – like quinoa, I make a big batch and freeze small portions. Another option is to purchase pre-cooked, frozen brown rice, available at many grocery stores.
Chicken or Vegetable Stock – I make my own chicken stock, and again freeze in individual portions. I use it to make quinoa and as a base for many other dishes. However canned or boxed (low-sodium) varieties are perfectly fine.
Beans – most are available canned and this is certainly the easiest way to go. Before I started cooking them, I would open, drain and rinse a can of beans, and then freeze in individual portions. Now I cook a large batch, and once drained and cooled, freeze in small batches.
Vegetables – depending on where you live and your lifestyle, frozen vegetables may be more readily available or just easier to prepare than fresh vegetables. Fresh is best, but frozen is still a good option, and they're a much better than canned veggies – lower in sodium and higher in retained nutrients.
Now that you have the basics down, here are some eating healthy recipes:
Soups:
Soups and Stews are my favorite during the fall and winter. The basic recipe is the same, just tweak the ingredients for your taste. Once cooled I freeze in individual freezer-safe containers.
-All start with ½ sweet onion, diced
-Saute in 2Tbs olive oil
Add the spices and vegetables, along with approximately 2C water, vegetable broth, or chicken broth or stock. (add more for a thinner soup, less for a thicker soup – you can always start off with a lesser amount and add more). Simmer for approximately 20 minutes, or until vegetables are soft (but not mushy). Cool; blend with an immersion blender or process in batches in a blender to desired consistency.
Sweet Potato and Greens:
-3 large sweet potatoes, diced
-4-6 cups of greens, shredded (kale, chard, spinach, etc)
-1Tbs turmeric, 1Tbs cumin, salt and pepper to taste
Ginger, Carrot and Parsnip:
-2 lbs carrots, peeled and cut into 1" pieces (I try to get a variety of types of carrots – if you use purple ones the soup will have a beautiful deep purple color)
-1lb parsnips, peeled and cut into 1" pieces
-2Tbs  minced ginger root or ground ginger
-Greens if desired (add during the last 5-10 minutes)
Winter Squash:
-Approximately 3 C of peeled, cubed winter squash (butternut, acorn, red kuri; I made this last year with a combination of butternut squash and sugar pie pumpkin)
-2Tbs cinnamon (I love cinnamon!)
-1tsp nutmeg
-Greens if desired (add during the last 5-10 minutes)
-These soups freeze well, and are very good served with some Greek yogurt and lemon.
Asian-style soup:
For a lighter but just as nourishing and fulfilling soup, nothing can be easier than this. All ingredients can be pulled out of your freezer or refrigerator, and thrown into a single pot. It's one of my staples when I get home late and need something healthy for dinner:
-Chicken or vegetable broth (or water)
-Carrots, edamame or peas, mushrooms (fresh or dried)
-Bragg's liquid aminos (a great no-sodium,  gluten-free substitute for soy sauce)
-Fresh (preferably) sliced or grated ginger; powdered also works
-Brown Rice
-Chicken or tofu if desired
-Simmer all ingredients for just about 5-10 minutes
-Garnish with sliced scallion, cilantro, sesame oil, and fresh lime juice – delicious!
Lentils:
I have 2 "go-to" lentil dishes, depending on what type of lentils I feel like eating – again, these recipes should just be starting points – experiment with the spices and vegetables.
Green Lentils:
Saute ½ onion in olive oil or ghee. Add approximately one tsp each of cumin, coriander, turmeric, ginger, and cinnamon, just until the spices are heated.
Rinse 1 cup of green lentils and add to the onion and spices with 2 cup of water, vegetable broth, or chicken broth or stock. Simmer for approximately 20 minutes.
Add sliced carrots, garbanzo beans, spinach, tomatoes, or whatever vegetables you like (frozen vegetables make this super-easy); simmer another 5 minutes or so and you're done!  Again, vary the amount of liquid depending if you want a thin soup or a thick stew consistency
Red Lentils:
-Saute ½ onion in olive oil or ghee. Add approximately one tsp each of cumin, coriander, turmeric, ginger, and cinnamon, just until the spices are heated.
-Add 2 cups of bite-sized cauliflower florets and 2 cups of water, vegetable broth, or chicken broth or stock. Simmer for about 10-15 minutes or until cauliflower is to desired consistency.
-Add 1 cup of red lentils, and garbanzo beans, kale, and other veggies of choice; simmer about another 5-10 minutes (red lentils cook very quickly).
Other Options:
Cooked mung and aduki beans, brown rice, and lemon juice is one of my favorite "simple" meals – high protein, low fat, and delicious with some carrots and yogurt.
Roast a pan of cauliflower, Brussels sprouts, beets, mushrooms, and sweet potatoes or butternut / acorn / red kuri squash; save in the fridge. Then just add a serving of quinoa, some sautéed kale, a chicken breast, whatever – and you've got a full meal.
Shorter days and cooler weather does not mean having to compromise on your meals – it is possible to have warm, comforting and nourishing gluten-free meals that are easy to prepare – it just takes a little advance planning, some very basic cooking skills, and a little imagination!