By The Morrison Center Staff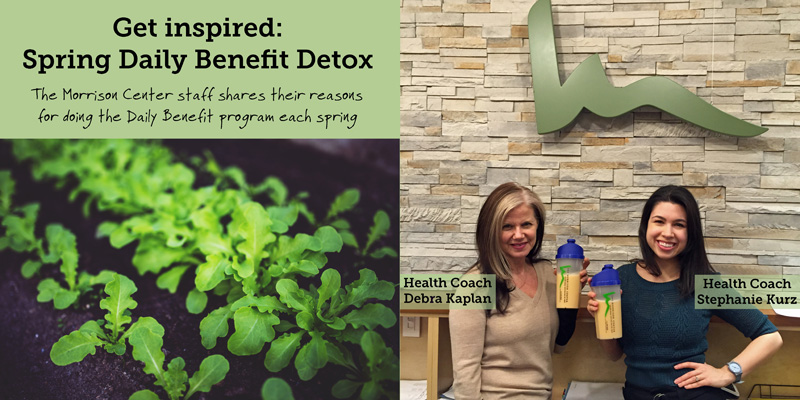 At The Morrison Center, we coach patients through our Daily Benefit® detoxification program year-round, adjusting food recommendations with the seasons. From our personal experiences and our work with patients, we've learned that early spring is an amazing time to cleanse the body and renew the mind and spirit. We view a cleanse as an opportunity to enhance the body's innate process of clearing toxins.
What is our spring Daily Benefit® program, and why should you do it? Here's what our staff has to say:
Dr. Morrison:
Our spring program is the ideal way to jump-start the process of rejuvenation. It's an opportunity to remove not only the unhealthy foods we've eaten during the cold months, but also to recharge our body. Even after a week on the program, energy comes back, skin looks better, digestion and sleep improve, and you'll feel ready to enjoy a great summer.
Angela Yong, Supplement Manager:
We must detox at least once a year, to clear all the toxins that have built up over the last year. I know I'll do it and feel great.
Debra Kaplan, Health Coach:
Spring is an excellent time to take out the trash, so to speak—to take stock of what you're eating—and mop up the internal mess.
Dr. Moreno:
Spring is the best time to take on a detox. You're in a good mood—take advantage and do something you wouldn't normally do.
Hildy Abel, Practice Manager:
When you take control of your health by combining good whole foods and exercise, the results go beyond weight loss, better skin, and increased energy—they are immeasurable.
Dr. Karam:
Digestion requires a significant amount of energy. By "detoxing," you allow the body's energy resources to be used for other things, such as repair processes.
Stephanie Kurz, Health Coach:
The spring Daily Benefit® program is an amazing way to break unhealthy habits and build a nourishing and energizing routine—one you can be proud of!
Andrea Mendoza, Medical Receptionist
Everybody needs to do it! I really feel that most of us are toxic. It's a healthy way to bring in the new season.
Learn more about our Daily Benefit® program and products to support your health this spring!