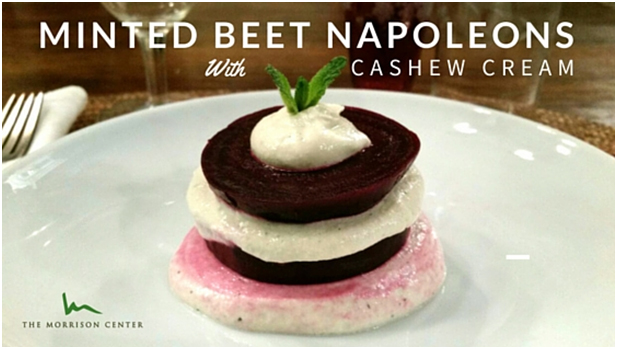 Sweet, velvet-red beets layered with a cream reminiscent of goat cheese flavored with a sexy scintilla of mint is a suggestive way to start your Valentine's Day dinner. This "Napoleon" is beautiful to behold and just a touch cheeky, showing that you're ready to indulge your Valentine in a romantic evening full of surprises.
Yields: 2-4 servings (depending on size of beets)
Ingredients:
2 beets, boiled and sliced into 1/2" slices
1 cup raw cashews
1/2 – 3/4 cup filtered water (add more water according to desired consistency)
Juice of 1/2 lemon
1/2 tsp. sea salt
1/2 tsp apple cider vinegar
1 garlic clove
1 tbsp olive oil
1 tbsp chopped, fresh mint leaves; leave a few small leaves whole for garnish
Instructions:
1.) Soak cashews in filtered water for 3 hours or more then strain
2.) Blend the cashews and ½ cup water in a blender or food processor until smooth.
3.) Add remaining ingredients (except beets) and blend until incorporated. The consistency should be thick and creamy. If it's too thick, you can add more water a few drops at a time until you reach the proper consistency. Place in the refrigerator to chill for at least an hour.
4.) Once the cream is chilled, stack three slices of beets with a large dollop of minted cashew cream between. (It's okay if the cream flows out as the stack gets taller.) Top with a dollop of cream and garnish with whole mini mint leaves.
Follow this delectable appetizer with Meatballs and Rutabaga Spaghetti with "Nomato" Sauce and Pavlova with Coconut Cream and Fresh Fruit.
Love Note: Beets are abundant in dietary nitrates which stimulate the production of nitric oxide, a vasodilator, which increases blood flow. The natural nitrates found in beets react differently in the body than sodium nitrate, a preservative used in processed meats, which should be avoided.
Supplement Spotlight: Say "N.O." to Low Libido
NEO40
These fast-acting lozenges dissolve on your tongue, instantly producing nitric oxide (N.O). Made from a blend of safe, natural botanicals like hawthorn berry extract and beetroot powder. Vitamins C and B12 work synergistically with the botanicals to optimize effectiveness.*
Produces nitric oxide in the body, which supports healthy circulation*
Supports healthy triglyceride levels and healthy blood pressure*
*These statements have not been evaluated by the FDA and are not intended to treat or cure any disease.