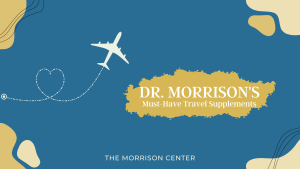 Here's a sneak peek at which supplements Dr. Morrison just can't leave behind when he travels.
Immune Support
Energy Support
Sleep Support
Digestion Support
How does your travel kit look?
Each person's supplement regimen looks different, so we don't expect you to copy and paste Dr. M's travel kit as your own. If you're looking to create a personalized travel kit, get in touch with us to help you update your plan. Call our office to find out more: 212-989-9828.
*These statements have not been evaluated by the FDA and are not intended to treat or cure any disease. Always discuss with your healthcare provider before taking any medication or nutritional, herbal or homeopathic supplement, beginning any diet, nutrition or fitness plan, or adopting any treatment for a health problem.