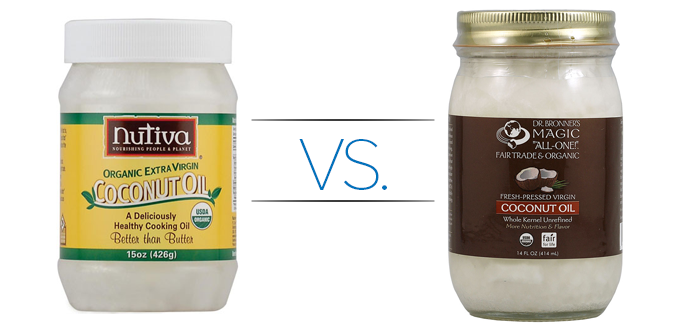 By Terence Sheridan
What is the best coconut oil to buy? Coconut's popularity is certainly on the rise.  Hundreds, if not thousands, of products have come out featuring coconut and it's health benefits.
More and more research is being done but the main aspect that is known to grant beneficial effects are its medium-chain triglycerides (MCTs). These MCTs, also present in breast milk, grant increased absorption and have also been known to promote fat oxidation assisting in weight-loss and possibly the effectiveness of exercise and weight management.
Because of it's great benefits, I have chosen to review two brands of Coconut Oil. Both Nutiva and Dr. Bronner's are Organic and Extra-Virgin (which means less processed). Each of these products had a decidedly Coconut smell and flavor which, unlike Olive Oil, lingers through after cooking powerfully.
Dr. Bronner's is definitely the better looking of the two, with the striking black label juxtaposed to the creamy white of the coconut oil inside the glass jar. Once you pour the oil into the pan, I was immensely surprised to notice some flakes of coconut. This could be good or bad, depending on the healthy meal you are making and how much coconut flavor you want.
I was actually so surprised I took some out and studied them, thinking that the oil might have gone rotten! Pretty much the only meal I preferred not to use this oil in was for making Eggs. The coconut & egg flavors simply don't combine well, but I am definitely focused on savory over sweet. However, it does go well with some meals: I made the best Chicken Curry of my life!
One issue with coconut oil is its temperature range. If you keep the oil in a warm environment it will turn transparent and have a characteristic yellow oil tinge. If you refrigerate any coconut oil, you will have to spoon it out as its solidifying temperature is right around 69 degrees.  When you are cooking you have to be sure not to heat above medium temperature, as any higher it will smoke.
It may have been that I had learned my lesson and kept my Nutiva oil above my cooking range, keeping it slightly warmer than room temperature, but I didn't notice any flakes when I was cooking. I'm not sure what difference it makes health wise but I would assume the Dr. Bronner's might be more unprocessed, but it might be Nutiva is more pure.
The distinct difference between the two is that Nutiva isn't as powerfully coconut flavored, while still being decidedly healthy. Without a doubt this could be a good or bad thing depending on what you're cooking and your personal preference. I love Dr. Bronner's Coconut oil and the fact that they are determined to keep their product a paradigm of the industry with promises of fair trade and good working conditions, you have to respect them.
Nutiva for the taste. Dr. Bronner's for the raw and unprocessed lovers out there.