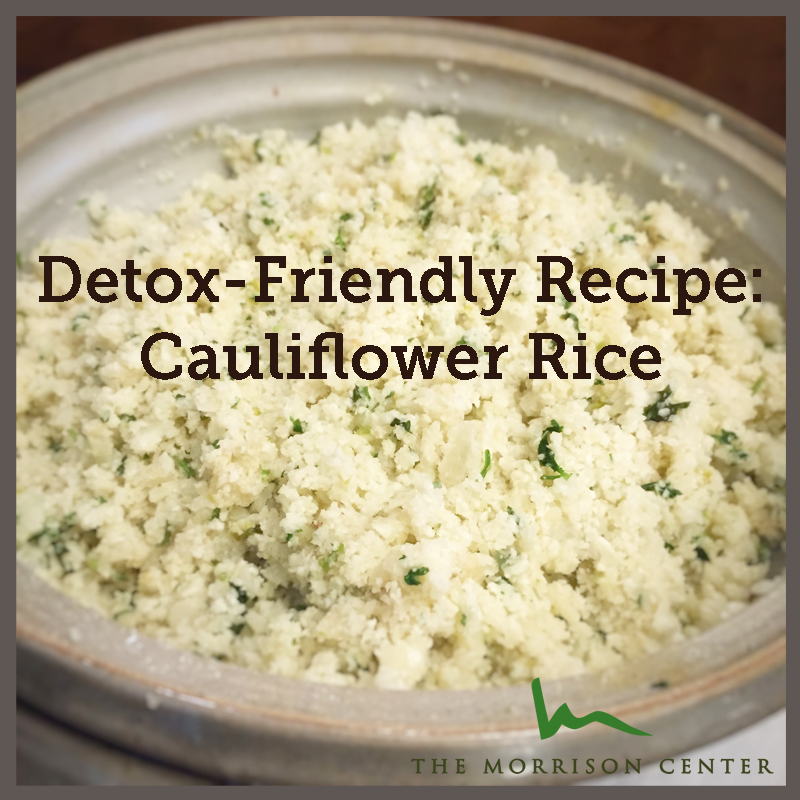 Call it low carb, paleo, or "life changing" as one client did — cauliflower rice is a fun, delicious, surprisingly satisfying dish we think you'll love. It's grain-free, easy to make and can stand in for rice in any dish, opening up a world of recipes.
While we encourage a diet of whole foods in their natural state, rather than refined replacements (i.e., many items in the gluten free aisle), this rice "substitute," like zucchini noodles and mashed cauliflower "potatoes," is simply a chopped-up whole food, and has so many benefits that we recommend everyone give it a try.
Ingredient highlights:
Cauliflower provides antioxidant nutrients to boost phase 1 liver detoxification and sulfur-containing nutrients to boost phase 2 detoxification. It's also an excellent source of vitamin C, a necessary and powerful antioxidant that needs to be continuously replenished. With a healthy amount of vitamin K, cauliflower is anti-inflammatory to boot.
Coconut oil has rapidly ascended to the pinnacle of many a superfood list for its numerous health benefits: 65% of its fatty acids are medium-chain triglycerides (MCTs) which, unlike other fats, don't need to be broken down to be absorbed and used — they go directly to the liver where they are burned for fuel. Coconut oil also provides lauric acid, a fatty acid that becomes monolaurin in the body, which helps fight harmful pathogens.
Onions, like cauliflower, are rich in sulfur-containing compounds and antioxidants that support the liver, protect us from the effects of excess oxidative stress and offer cardiovascular benefits.
Yields 4 servings
Ingredients
1 large head of cauliflower
1 onion, chopped
1 clove garlic, minced
2 Tbsp coconut oil
Sea salt
Optional: preferred spices and herbs (e.g., lime juice and cilantro)
This recipe makes a basic, lightly-seasoned "rice" with sea salt, garlic and onion. Part of the beauty of cauliflower rice is how versatile it is. You can spice it up in as many ways as you would real rice; here are some ideas:
Curry Cauliflower Rice: 1 Tbsp curry powder + fresh grated ginger + fresh lime juice to taste
"Fried" Cauliflower Rice: 1 scrambled egg + 1 Tbsp sesame seeds + fresh grated ginger + 1 Tbsp coconut aminos to taste
Greek Cauliflower Rice: 1 Tbsp oregano + 1 Tbsp capers + ¼ cup diced kalamata olives + 1 Tbsp dijon mustard + 1 Tbsp apple cider vinegar
Sweet Cauliflower Rice: dash of cinnamon + stevia to taste + vanilla extract (omit onions and garlic; adjust salt to taste)
Lemon Basil Cauliflower Rice: 3 Tbsp fresh lemon juice + 2 Tbsp chopped fresh basil + drizzle extra virgin olive oil
Sushi Cauliflower Rice: 1 Tbsp rice vinegar + 1 tsp stevia + handful nori/kelp flakes
Herbed Cauliflower Rice: mix of fresh herbs (thyme, rosemary, basil, chives, dill, oregano, etc.)
Instructions
1. Roughly chop cauliflower, then use food processor to pulse into rice-like grains; set aside.
2. Heat 1 Tbsp coconut oil in a large skillet over medium heat; add chopped onion and a pinch of sea salt, sauté until soft and translucent.
3. Add cauliflower and minced garlic and 1 Tbsp coconut oil; sauté until the cauliflower begins to soften.
4. Remove from heat and stir in desired spices, herbs and flavorings.
Our Health Coaches are a wonderful resource for more recipes, healthy meal plans and practical tips to ensure results. Download our Health Coaching brochure, or contact us to set up an initial session.
Learn how Dr. Morrison's Daily Benefit® program can help you lose weight and achieve your health goals for long-term wellness.