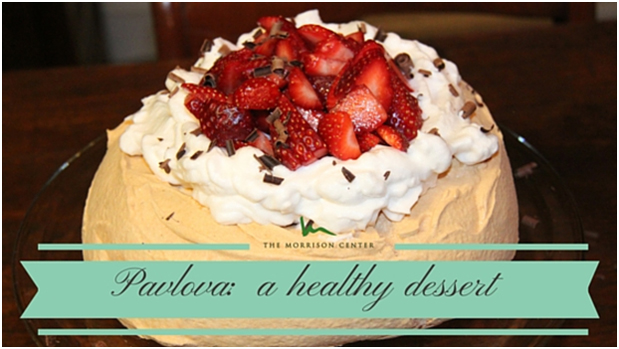 As light and airy as a cloud, this fruit-topped meringue always makes a striking impression – something along the lines of, "you made that?" So beautiful and delicious (what would one expect from a dessert created for a prima ballerina?), this confection is easier to make than it appears. But the effort delivers a message of love, and in our version, good health: the pure protein of egg whites, the antioxidant power of berries, the good fat found in coconut cream. Sweetened with zero calorie monk fruit crystals, it's a guiltless, – dare we say – downright healthy finish to an unforgettable Valentine's Day dinner.
Paleo Pavlova
Adapted from paleontastic.com
For the meringue
Ingredients:
6 egg whites (room temperature)
1/2 cup monk fruit sweetener
1 tsp vinegar (white balsamic or apple cider)
2 tbsp arrowroot powder
1/2 tsp vanilla extract
1.) Preheat oven to 350F
2.) Place egg whites into mixing bowl and using whisk attachment (or beaters on a hand-held mixer, mix at high speed until the eggs start to thicken. Continue whipping as you alternate adding the monk fruit and arrowroot 1 tbsp at a time. Whip until the merge reaches a stiff, glossy consistency, approx. 10 minutes. The final product should be a thick, shiny meringue that holds its shape.
3.) Line a cookie sheet with parchment paper on which you've drawn an 8" circle on the underside of the paper. Using an offset spatula, spread mixture to fill the circle and form a disk-like shape. Clean up the edges and leave a slight depression in the middle for the topping.
4.) Place it in the oven and immediately lower the temperature to 300F. Bake for 1 1/2 hours, checking regularly after 1 hour to make sure it doesn't over bake. If its color is getting too dark, lay a piece of foil over it and continue baking until the meringue is cooked through. It should look shiny and have a slight spring to the touch.
5.) Turn off the oven and open the door. Leave the meringue to cool. (You can prepare the meringue up to a day in advance, storing it in an airtight container.
For the coconut cream topping:
Ingredients:
2 cans chilled full fat coconut milk
1 tbsp monk fruit sweetener
1/2 tsp vanilla extract
Fresh fruit or berries
1.) Scoop off the solid cream at the top of the coconut milk can and place it in the mixing bowl.
2.) Add the vanilla and monk fruit sweetener and whip on high speed until it reaches a thick whipped cream-like consistency.
3.) Spread the whipped coconut milk into the center of the cooled meringue and spread it outward, leaving a couple inches bare.
4.) Top with fresh fruits or berries of your choice.
This delightful dessert works wonderfully with our other Valentine's Day recipes: Minted Beet Napoleons with Cashew Cream and Meatballs and Rutabaga Spaghetti with "Nomato" Sauce .
Love Note: For smooth dewy skin, eat your protein! It contains L-lysine and L-proline, two amino acids that support collagen production – just what your skin needs to stave off age-related wrinkles.
Supplement Spotlight: It Puts the "Pro" in Protein
Daily Benefit® Protein
Our formula is made of gluten and dairy-free rice protein, with a nutrient blend that boosts metabolism, increases energy, and optimizes liver detoxification. Easily-dissolved powder mixes with water or unsweetened non-dairy milk into a delicious shake.
Provides a full amino acid profile to boost phases I and II liver detoxification
Decaffeinated green tea extract and carotenoids provide antioxidant protection against potentially damaging chemicals naturally produced during the liver detoxification process
Medium-chain triglycerides support enhanced energy and cognitive function