By Giovanni Roselli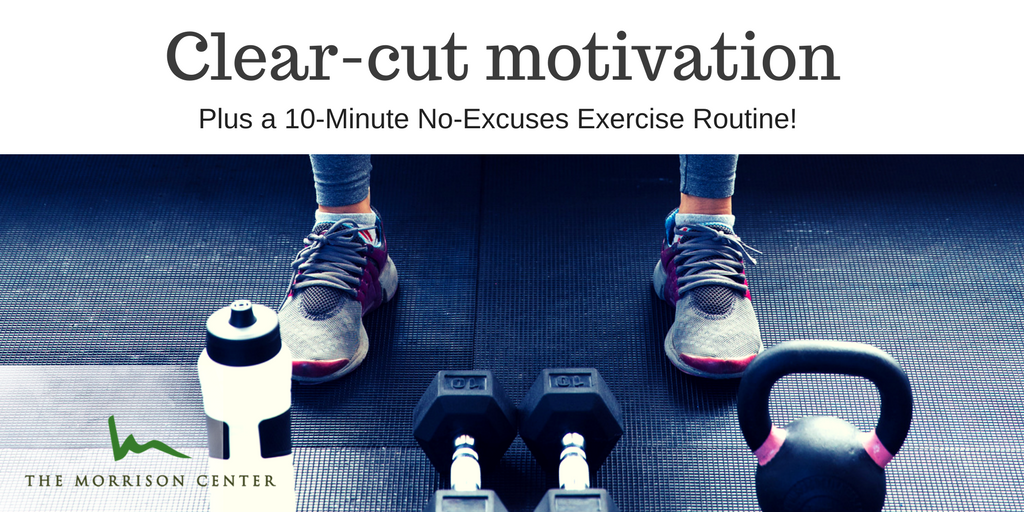 If there are two things we can all agree upon, it is that none of us wants to be in pain and everyone wants the best possible quality of life.  Making and finding the time to exercise is a crucial part of working towards these goals.
How are those New Year's Resolutions going? If you need a motivation boost, let me inject some fitness inspiration with some basic tips.
Step 1: Understanding your motivation
Are you trying to be more active and have more energy? Become more flexible? Keep yourself pain-free? Lose weight? Staying mindful of the true purpose of your exercise goals will help keep you committed and motivated.
Step 2: Write it down and make it visible!
Set your goal, write it on a piece of paper and put it where you will see it often, so it reminds you of your mission.  Using a visual, like a photograph, has also been known to be motivational.
Step 3: Make an action plan that is attainable
Now it's time to implement a behaviour.  Figure out how much time, on a regular basis, you can realistically commit to exercising. Twenty minutes a day? Four times a week? One hour, twice a week? If finding even 15 minutes in your day seems unrealistic, consider tracking and analyzing where you are spending your time.  You might be surprised by how much time can be spent watching TV or scrolling through social media.
Pro tip: Remember to factor in travel time if you plan to exercise at a gym. If time and/or cost is an obstacle, home workouts can be just as effective. Remember, the most effective workout is the one you actually do!
Pro tip: If you travel frequently, plan to exercise in your room or at the hotel gym. It may not be ideal but it's better than skipping your workout!
Giovanni's 10-Minute Basic Workout for Flexibility, Strength, and Weight Management
Here's a full-body routine that you can do anywhere, anytime:
What
How and Why
Time
Roll it out
Before you exercise, use a foam roller to bring awareness to your body, paying attention to any extra-sensitive spots to help increase blood flow and stimulate proprioceptors.  This can also be performed post-workout as well. Learn more about how to foam roll and why it's useful.
3 minutes
A strong foundation: feet and ankles
The foot has 26 bones and 33 joints.  It is our connection to the ground.  A bad foot (or feet) will inevitably affect the rest of the body.
Before your workout, try simple ankle circles, being sure to reverse directions, and flexing the feet up and down.
1 minute each foot
Work those hips
The low back and the knees are two of the most common places people experience joint pain, especially as we age.  The hip is the connection between the upper and lower body. An exercise as simple as a squat with a few variations (see images below) can keep your hips in good shape — pivotal to keeping your body orthopedically sound and mobile.
Three kinds of squats Our body works in three planes of motion: sagittal (front/back), frontal (side to side), and transverse (rotation). These three squat patterns work the hips and the squat pattern in all 3 planes of motion.
Traditional Squat
Lateral SquatTransverse Squat
1 minute
Sit up straight
Many of us spend much of our days sitting with subpar posture, which can cause excessive kyphosis (hunching of the back).  This encourages the head to push forward, adding pressure to the neck.

Always address the upper back/thoracic spine in your workouts with simple moves like bent over "Y's, and T's" (see images below).

1 minute
Core strength
Core strength benefits the abdomen, hips, low back, and pelvis, which can help prevent common issues like low back pain. A strong core also helps us with balance and stability, especially as we age.
A simple plank, or forearm plank, or side plank variations held for 20-30 seconds can be very effective.
1 minute
Get the heart pumping
Try an action that safely elevates your heart rate like jumping rope, running in place or stepping up and down off a chair or a step to support your cardiovascular system.
1 minute
Total time
Including transitions and water breaks.
10 minutes
This is a basic, well-rounded workout for someone who either needs to ease into a routine and/or doesn't have a lot of time or equipment. If you have more than 10 minutes, repeat the above exercises 2-3 times.
Once you understand your motivation, write it down, and come up with an attainable plan that you can stick to and begin.  Remember, no matter the amount of time or its simplicity, the best workout is the one that you can actually do.
In Good Health,
Giovanni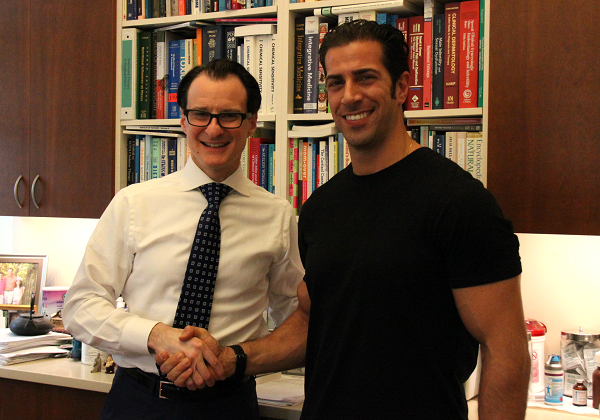 Giovanni Roselli, a former WWE professional wrestler, works for Equinox and most recently created the Equinox national signature group fitness class 'Fully Loaded.' He is a master instructor and global ambassador for ViPR, as well as being a master kettlebell instructor for Kettlebell Athletics. He holds a nutrition certification with industry leader Precision Nutrition. In addition to writing for our Morrison Health Blog, he writes regular articles for fitness education website PTontheNet, David Weck's WeckMethod website, and NY/CT lifestyle magazine 'WAG.' His television appearances include NBC's 'Today Show' and National Geographic's 'Brain Games.'
If you are interested in learning more, please feel free to reach out to me via twitter @GiovanniRoselli or email me at GioRoselli@gmail.com.