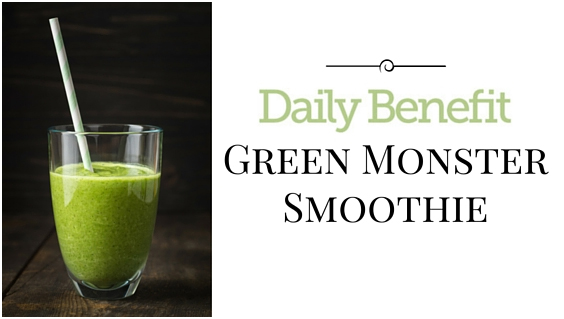 Leafy greens provide so many health benefits, from bone strength to brain power – why not start your day with them? Packed with an array of phytochemicals, this bright green smoothie lands a powerful punch of plant-based nutrients. Whether you're a seasoned green smoothie lover, or adding greens to your smoothie for the first time, you'll love the fresh flavor of the Green Monster.
We started with Dr. Morrison's three key detox ingredients: Daily Benefit® Protein Powder, Daily Benefit® Fiber and Glutamine Plus. Then we added a few delicious super foods that turn up the dial on nutrition and flavor! (Inside scoop: for a mild flavor, start with organic baby spinach. For leafy green lovers, try arugula, baby kale and/or collard greens).
Yield: 1 serving
Blend the following ingredients until smooth.