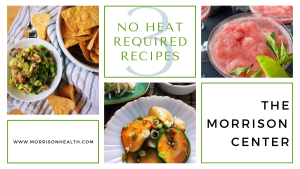 There are days when we just don't feel like cooking when the weather is just too hot outside. Here are 3 recipes that involve no-heat cooking and are guaranteed to elevate your next summer shindig while keeping you cool!
Cooling Watermelon Slushy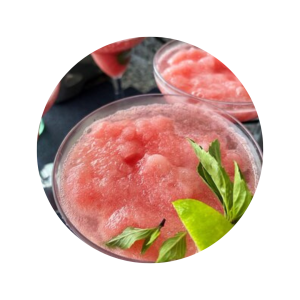 Relax and cool off with a yummy mocktail using just a few ingredients to make a pitcher of this watermelon slushy. Want to make this a cocktail? Just add a little bit of potato-based vodka or clear gin.
Ingredients
3 cups watermelon cubes

2 cups ice

1 cup filtered water

2-3 tbsp lime juice

1 lime, cut into wedges

1 bunch fresh basil or mint (slap them up)

12oz cold sparkling water/seltzer



Directions
In a high-speed blender, combine watermelon, ice, water, and squeezed lime juice. Blend until you get a smooth puree.

In a glass, combine a slapped basil leaf with a squirt of lime juice from the lime wedges. Pour in the slush and leave about 1 inch of space from the rim. Top your drink off with sparkling water and garnish with basil on the side.

Use your reusable/paper straw to stir everything together and slurp away!
Garlic Scape Guacamole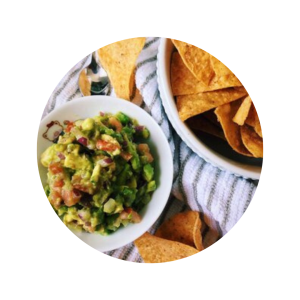 Make use of all those garlic scapes this summer by adding them to your guacamole. It's a total game changer! Unlike regular garlic, the scapes are sweeter and not as spicy when raw so you can throw them in just about anything in place of regular garlic.
Ingredients
3 avocados, peeled & pitted

3 garlic scapes, minced

2 small tomatoes, finely diced

1 red onion, finely diced

1 jalapeno, finely diced

1 cup cilantro, minced

juice of 1-2 limes

1 tsp Everything but the Bagel Seasoning

salt & pepper to taste



Directions
In a large mixing bowl, lightly mash the avocados to just break them up a bit. Avoid overly mashing until it becomes too soft. 

Stir in all remaining ingredients and mix well until thoroughly combined. Add lime juice in increments and adjust to taste.
Korean-Inspired Spicy Cucumber Salad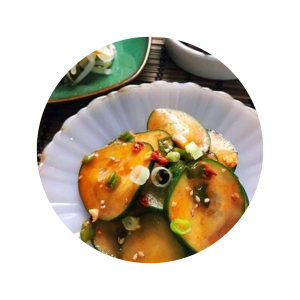 Each bite of this cucumber salad is refreshing and bursting with flavor, making it the perfect summer side dish.
Ingredients
1 Korean cucumber, thinly sliced (2-3 Persian cucumbers work too)

1 tsp sea salt

1 tbsp gochugaru (Korean chili pepper flakes)

1 scallion, minced

1 tsp minced garlic

1 tsp rice wine vinegar

1 tsp sesame oil

1 tsp sesame seeds



Directions
In a medium bowl, thoroughly mix cucumber slices with salt and set aside for 10 to 15 minutes. Drain any liquid from the bowl and gently squeeze cucumbers to get rid of excess liquid.

Add in all ingredients and mix together until cucumbers are well coated. Chill until ready to serve.
Looking for more meal planning inspiration?
Speak with one of our health coaches today to identify the best foods and supplements to rebalance your system, and develop a personalized meal plan to fit your lifestyle. Call our office to find out more: 212-989-9828.