By Jeffrey A. Morrison, M.D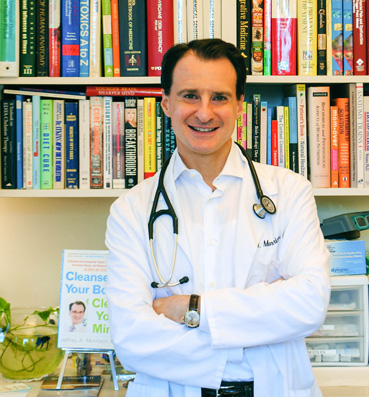 Dr. Morrison's 10-day detox diet focuses on fresh, organic, locally grown fruits and vegetables that are seasonal, easy to digest and facilitate the body's innate ability to detoxify itself. Easily digestible protein sources are included, as are key antioxidants, vitamins, minerals, and essential fatty acids. By following our 10-day cleanse, one should expect to:
lose weight
feel energized, and
see improved skin color and tone
10-day cleansing helps the body get rid of toxins, improve the healing process and renew the bloodstream.
Detox Diet
8am to 12 noon: organic grapes, pineapple, papaya, aloe juice, apples, pears, pure spring water and green or herbal teas.
Any of these may be eaten in solid or liquid form. Choose one or more and eat and drink as much as you like until noon.
12 noon to 8 p.m.: garlic, cabbage and cabbage soup, asparagus, avocado, green/wax beans, beets and beet greens, bok choy, broccoli, Brussels sprouts, carrots, cauliflower, cucumber, dandelion leaves, endive, escarole, garlic, kale, kohlrabi, leek, leafy greens and lettuce, parsley, mustard greens, okra, onion, parsley, parsnips, radishes, rutabaga, scallions, spinach, summer squash, sweet potatoes with skin, sprouts, swiss chard, turnips, watercress, zucchini, pure spring water and green, herbal or sage teas
Any of these vegetables may be eaten in solid or liquid form. The veggies can be raw, steamed, baked, or roasted and you can use a dressing made of olive oil, lemon juice, garlic and parsley. It is best to eat both raw and cooked vegetables at each meal for the live enzymes needed for digestion.
A protein shake may be added at breakfast and/or lunch. This is especially important for people that are active or exercise regularly. The recommended shake has been formulated specifically to improve the detoxification process.
In 8 oz of water add the following ingredients one to two times per day:
Menu to Break the Fast
After the 10 days have completed, now you can start to reintroduce easily digestible proteins like:
4-6 oz of white fish
egg, and
organic chicken per meal
Also, if your goal weight has been achieved you may reintroduce:
½ cup of whole grains, including brown rice, millet, buckwheat or quinoa
beans 1-2 times per day
Dr.  Morrison's Balanced Approach meal plan is easy to follow. Once you have competed this 10-day program, detoxing will become a way of life for you.