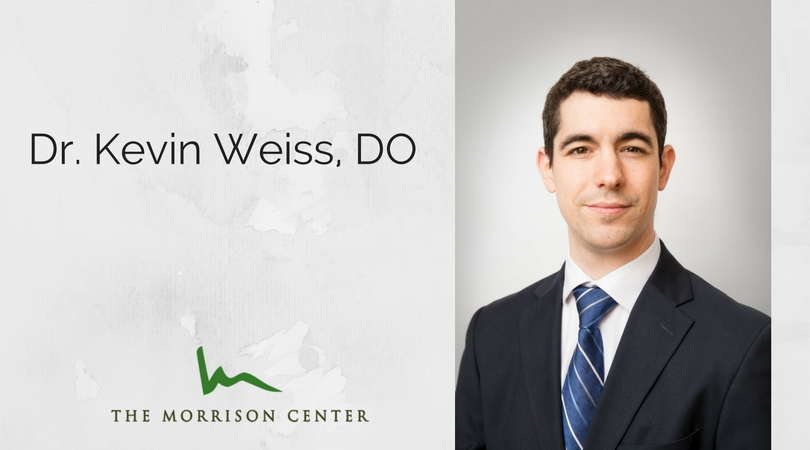 We'd like to extend a warm welcome to Dr. Kevin Weiss, the newest member of The Morrison Center's practitioner team. Dr. Weiss is an Osteopathic physician with dual board certification in Family Medicine and Neuromusculoskeletal Medicine.  He focuses on root-cause identification and treatment to support the body's innate healing abilities for long-term success.  Dr. Weiss treats a wide scope of conditions, including digestive issues, autoimmune conditions, hormone imbalances, detoxification issues, and a range of other metabolic and musculoskeletal issues.
As an Osteopathic physician, he offers the knowledge and experience of an integrative physician with an additional emphasis in musculoskeletal diagnosis and treatment with attention to the mind, body, spirit connection.  He employs a wide array of techniques for efficient healing and long-lasting results for musculoskeletal injuries, sports medicine issues, movement optimization, and alignment problems including:
Myofascial release and craniosacral techniques: gentle hands on manual procedures used to balance the soft tissues of the musculoskeletal system.
High velocity, low amplitude techniques: a manual technique similar to traditional Chiropractic adjustments used to improve bone alignment.
Prolotherapy: a regenerative injection that assists healing of chronic injuries in joints, ligaments, and tendons.
Neural Therapy: superficial injections of a local anesthetic to bring quick relief from nervous system imbalances.
Neural Prolotherapy: superficial injections of dilute sugar water to quickly calm inflammation.
To schedule an appointment with Dr. Weiss, please call us at 212-989-9828 or email us at manager@morrisonhealth.com. For more information on conditions treated and services offered at The Morrison Center, please visit our Services page.